Mission of the groups
Use of renewable energy such as solar, wind and biomass is expected to be further expanded, as it has advantages from the viewpoint of global warming countermeasures and increasing domestic energy source. Moreover, vigorous efforts are being made in research & development of innovative technologies on energy demand side, that improve energy efficiency and diversification of energy sources.
The groups study and research a path toward development of renewable energy and innovative energy technologies from a wider view and to make contribution to our country's energy strategy by identifying necessary technological development challenges and indicating a direction for problem solution.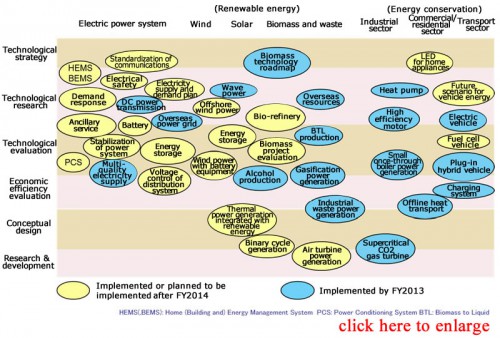 Research Themes
Study/research on solutions to the massive introduction of renewable energies
Development/demonstration/survey on energy storage technologies (Thermal Energy Storage, Compressed Air Energy Storage)
Business model development for local energy supply
APNet (Advanced Power Network) Study Group (Emeritus Prof. Yokoyama, The University of Tokyo)
Society of (STE) Solar Thermal Energy and Energy Storage (Prof. Kodama, Niigata Univ.)
Expertise/relevant overseas research institutions
Thermal system analysis and evaluation
DLR (German Space Agency)
Study approaches
The groups have undertaken research and study in cooperation with private companies in a manner shown below.
Carry out research and study on certain technical fields or specific technology entrusted by the government, the New Energy and Industrial Technology Development Organization (NEDO), private companies, etc.
Propose new ideas in collaboration with private companies or universities to the government or NEDO and launch and implement new projects.
Form a study group on specific theme and exchange and share the relevant information among the members, and create a project of the government, NEDO, etc.
The groups have taken part in research and study activities of the government's technology development programs which cover overall picture and also on projects of specific technology. These activities and projects are in a mutually complementary relationship as indicated in the following figure.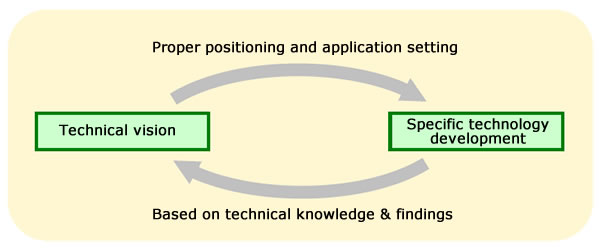 Study result
The results of research and study are publicly available in the form of reports by the government or NEDO. Our representative reports that were recently made publicly available are shown below.
Next generation energy and social systems demonstration project/Study project on creation of energy management system/Study project on proposal for creation of energy management systems, March 2013 [entrusted by the Ministry of Economy, Trade and Industry (METI)/New Energy Promotion Council (NEPC)]
Next generation energy and social systems demonstration project/Technological study project on connection and control in standardization of energy management systems/Promotion of comprehensive strategy for international standardization of energy management systems, March 2013 [entrusted by METI/NEPC]
Development of highly efficient conversion technology for biomass energy, etc. (leading technological development)/Report of comprehensive study results, March 2013 [entrusted by NEDO]
Technological development and demonstration study project on global warming countermeasures, development of environmentally sustainable high efficiency binary power generation technology, result report, March 2013 [entrusted by the Ministry of the Environment]
Contact persons
| | |
| --- | --- |
| Name | E-mail |
| Ichiro Sumitani, Director | |
| Ryo Moriyama, Director | |