Mission of the group
The increase of greenhouse gas (GHG) emissions, such as CO2 and other gases in the atmosphere is causing global warming, could lead to a serious impact on global environment. Climatechange is an issue to be tackled by all nations for urgent measures in a collaborative manner. Negotiations for a post-Kyoto Protocol scheme have already started. Also, from the technological viewpoint, development of GHG emissions reduction technologies to mitigate long-term impact of climate change is urgent task. The Global Environment Group takes on a mission to comprehensively evaluate the issues related to the long-term global environment from a standpoint of natural science, society and technology. As part of the mission, with an aim of evaluating the possible introduction of technology for prevention of global warming, various studies have been underway to promote CO2 emissions reduction through comprehensive examination of energy systems including fossil energy, CO2 capture and storage, renewable energy, nuclear energy and energy conservation. In addition, the group has made efforts to evaluate the background and trends of global environmental issues in terms of socio-economy and technology, and to conduct very long-term analyses with using various tools and disseminate the analysis results internationally. The analysis results are also provided to serve as policy recommendations for the government.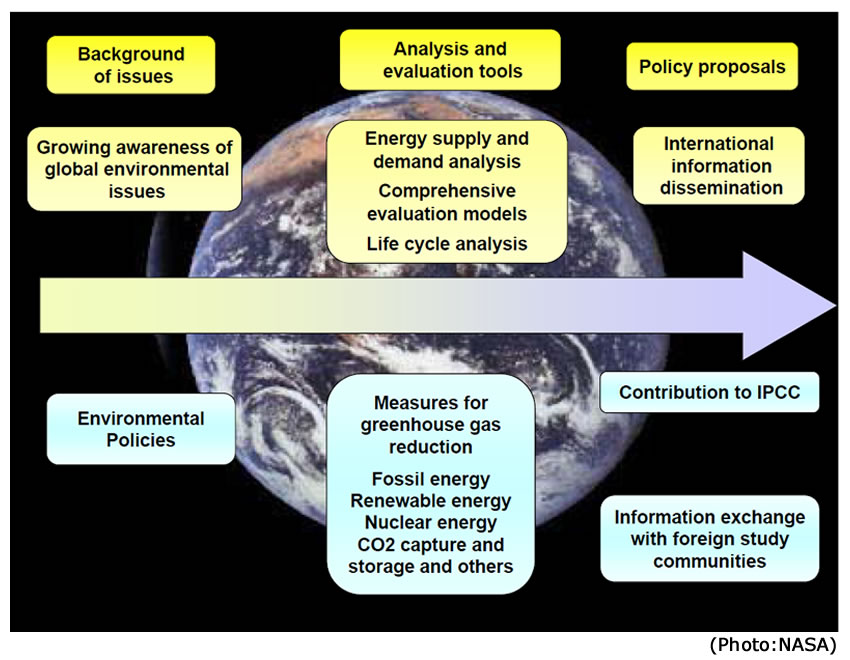 Research Themes
Analysis of energy supply-demand composition, CO2 reduction effects, energy system costs, etc. (Mid- and Long-term Vision 2019), based on the IAE model (GRAPE, TIMES-Japan)
Mission Innovation
Support for planning and operation of ICEF subcommittees
Expertise/relevant overseas research institutions
Long-term and integrated analytical evaluation of energy systems using models
IEA, IIASA (International Institute for Applied Systems Analysis) International Collaboration on Integrated Assessment Models
Activities to date
To respond to global environmental issues, the group has carried out surveys on technology and policy trends based on latest information as shown below, following the requests from the government, independent institutions and private companies. The survey reflects information based on knowledge & findings of IAE experts in the fields of renewable energy, hydrogen energy, utilization of fossil energy and nuclear energy to evaluate energy supply and demand, the impact on global environment and the possible introduction of individual technologies. In 2 evaluation, analysis tools such as integrated assessment models, energy supply and demand models, etc. are used.
Integrated assessment model study
Research on very long-term energy, economy, climate change, and environmental impact by using an integrated assessment model (GRAPE)
Energy model study
Evaluation of very long-term energy supply and demand in the world and CO2 reduction potentials by using energy module of GRAPE. In addition, evaluation of energy supply/demand and CO2 reduction potentials in Japan by the middle of this century based on an energy model (TIMES-Japan)
Research on post-Kyoto Protocol international climate policy scheme
Study on climate policy systems concerning framework for climate change policy after 2020
Exchange and dissemination of the latest information to address global environmental issues
Contribution to the Intergovernmental Panel on Climate Change (IPCC) and participation in Energy Modeling Forum (EMF) projects of Stanford University in the United States and information dissemination
Study in specific field other than global warming
Study on environmental issues including local environmental problem such as mercury, waste, etc.
Study result
The results of the group's research and study are open to the public in the form of reports for the government and New Energy and Industrial Technology Development Organization (NEDO), etc. In addition, the results are quoted in presentation at academic meetings, research papers and reports of international organizations (IPCC, IEA and others) and are also reflected in policy recommendations and actions.
Contact person
| | |
| --- | --- |
| Name | E-mail |
| Atsushi Kurosawa, PhD, Director | |