Mission of the group
Hydrogen energy is an important way to prevent global warming and ensure energy security. The reason is that hydrogen, which is compatible with electric power, is a unique energy carrier as it emits no CO2 when used, and its resources are evenly accessible in the world. Therefore, to establish hydrogen production technology without CO2 emission, namely using renewable energy or nuclear energy, will be a great contribution to prevention of global warming.
Economically feasible large-scale hydrogen energy systems, however, have not yet been established to date. And, further technological development and sophistication of hydrogen systems are necessary to realize the massive and efficient supply and utilization of hydrogen at an affordable cost.
From a long-term perspective, the Hydrogen Energy Group contributes to formulation of Japan's energy strategy and also contributes to the hydrogen-related industries through assessing viability of hydrogen energy systems, identifying challenges in technological development and showing a technological development path for realization.
When the WE-NET Project, a hydrogen energy part of the New Sunshine Program, was launched in 1993, WE-NET Center was simultaneously established in the Institute of Applied Energy (IAE). Since then, the Hydrogen Energy Group has been continuously engaged in a broad range of research and study activities. The recent research and study areas include study on CO2 -free hydrogen energy systems, development of hydrogen technology, assessment of hydrogen demand and strategy for widespread use of hydrogen. The group's activities also include dissemination and better understanding of hydrogen-related knowledge among the public.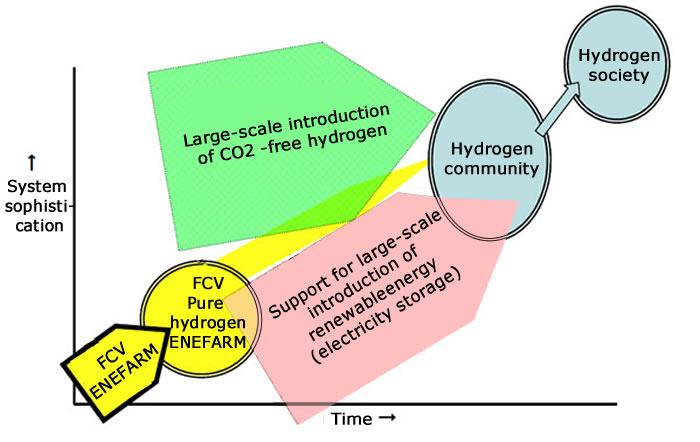 Research Themes
Hydrogen as an energy carrier
(Analysis of hydrogen demand, analysis of economic and environmental performance of various energy carriers)
Hydrogen as a means of energy storage
(Hydrogen utilization for effective use of renewable energy, Power to gas)
Individual technological fields supporting hydrogen
(Water electrolysis, hydrogen power generation, hydrogen liquefaction)
Zero-emission hydrogen vision study group (Dr. Yamaji, RITE president)
Expertise/relevant overseas research institutions
Scenario analysis and formulation ・System cost evaluation from hydrogen production to utilization
SINTEF (Stiftelsen for industriell og teknisk forskning)
IMDEA (Institutos Madrileño de Estudios Avanzados)
Future challenges
As global warming countermeasures and stable supply of energy are pressing issues, the Hydrogen Energy Group undertakes research and study in the following areas.
Research and study on the significance of large-scale introduction of CO2 -free hydrogen
Study on large-scale introduction of CO2-free hydrogen systems

Research and study on viability of large-scale production systems of CO2-free hydrogen
(Primary energy used as raw materials: renewable energy, fossil fuels, nuclear energy, etc.)

Research and study on viability of large-scale and long-distance transportation systems for CO2-free hydrogen
(Various energy carriers: liquid hydrogen, organic hydride, ammonia, etc.)

Research and study on viability of technology for large-scale utilization of CO2-free hydrogen
(Fuel cell vehicles, fuel cells for industrial and commercial/residential uses, large-scale power generation, gas turbines, etc.)

Study on CO2-free hydrogen and demand forecast
Comparative survey on hydrogen energy systems with other energy systems
Research and study on viability of large-scale introduction of renewable energy combined with hydrogen energy systems
Breakthrough technologies and developing roadmaps
Research on innovative hydrogen-related technologies including fuel cells both at home and abroad
Study approaches
In addition to the administration support on technological issues and activities on hydrogen energy, the group is conducting researches in cooperation with 3 private companies as follows.
Based on technical strategy, study the future technical trends and conduct technology evaluations.
Propose new projects in collaboration with private companies to the government or the New Energy and Industrial Technology Development Organization (NEDO) and launch new activities.
Form a study group with businesses, research organizations and universities on specific themes and exchange and share the relevant information which will lead to creation of projects.
Study result
"Feasibility Study in Response to Hydrogen Carriers," entrusted by NEDO in FY2008, March 2009
"Survey of Intercontinental Renewable Energy Transportation," entrusted by NEDO in FY2009, February 2010
"Production of the Diagram of Hydrogen Prices," a part of "Investigation of Project Development of Hydrogen Supply and Utilization Infrastructure Chain Using Australian Brown Coal," entrusted by NEDO in FY2012
"Fuel Cells for Hydrogen Production by Using Wind Energy in Patagonia, Argentine," vol. 6, No. 2, pp. 24-30 (2006)
"The Economy including the Environmental Value of an International Hydrogen Energy System," Japan Society of Energy and Resources, Vol. 31 (6) (2010)
"Economic Potential of Imported Hydrogen Originated from Oversea Renewable Energy," presented at the 19th annual meeting of the Japan Institute of Energy in August 2010.
Large-scale Wind to Hydrogen Production for Low Carbon Society: a Case of Liquid Ammonia as Hydrogen Transport Carrier," Fuel Cell Development Information Center, Vol. 10 (4) (2011)
Contact Person
| | |
| --- | --- |
| Name | E-mail |
| Shigeki Iida, Director | |