Mission of the group
The share of thermal power generation in Japan has increased after the Fukushima nuclear accident, though there are issues such as soaring fuel procurement costs and increased greenhouse gas emissions, and fossil energy will remain the majority of energy supply for some time. Under these circumstances, innovative technologies contributing to reducing CO2 emissions and to secure supply of resources are crucial. The Fossil Fuels Group has provided long-term views for fossil resource utilization technologies and clarify issues in technological development required, which will benefit the society in the future. Especially, efficient use of fossil resources such as non-conventional crude oil, non-conventional natural gas (shale gas or methane hydrate) and coal including low-grade coal will be needed. IAE is performing research & development and study on a highly efficient thermal power generation systems combining with such as coal gasification, CO2 capture technology and renewable energy technologies. These systems are evaluated from technical and economic viewpoints based on the long-term trends, thus contributing to the introduction and diffusion of new technologies that are highly environmentally sustainable.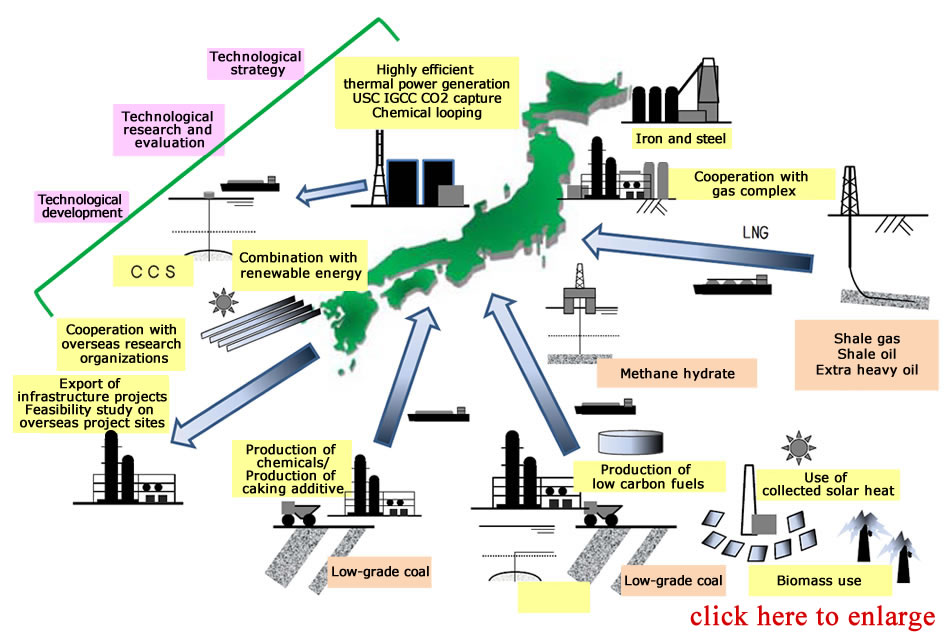 Research Themes
Study of energy system combining renewable energy and fossil fuels
FS of CO2 effective utilization technology
Overseas diffusion of advanced thermal power generation
Study group on ACC (Artificial Carbon Cycle) technology (Prof. Nakagaki, Waseda University)
Study group on solar thermal and thermal storage technology (STE study group)
Expertise/relevant overseas research institutions
Numerical analysis ・Process design ・C1 Chemistry
CSIRO (Commonwealth Scientific and Industrial Research Organisation of Australia)
Future challenges
The Carbon Recycle Group is challenging following issues and conducts study after prioritizing the themes taking into account the social demands.
Non-conventional crude oil and natural gas
Future trends and impact on Japan of non-conventional crude oil such as tight oil and non-conventional natural gas such as shale gas and methane hydrate
Gas related energy
Research and study of technology for producing substitute natural gas (SNG) from coal
Research and study of system technology contributing to CO2 reduction
Petroleum energy
Research and study of technology for producing substitute natural gas (SNG) from coal
Research and study of system technology contributing to CO2 reduction
Coal utilization technology
Technology for production and utilization of high-performance substitute coking coal from low-grade coal
Research and study on the possible introduction of low carbon fuels derived from coal
Research and study on innovative, highly efficient coal-fired power generation with CO2 capture
Research and study on new combustion technology such as chemical looping
Others
Research and study on in-service life estimation of petroleum-related plant equipments
Research and study on system technology combining renewable energy such as solar heat and fossil energy
Study approaches
The Fossil Fuels Group has undertaken development, research and study of technologies for utilizing natural gas, oil and coal, including the themes related to technological trends. The group has also undertaken technology and economic efficiency evaluations to assist national measures and actions by forecasting the future of fossil energy related technologies, and developing future technology to utilize fossil energy. Jointly with private companies, the group conducts researches in a manner described below to go to the next step.
Investigate the future trends of a certain technology based on technical strategy.
Form a study group composed of the members who are interested in specific themes and exchange and share the relevant information with businesses, research organizations and universities, and create a project of the government, NEDO, etc.
Study result
While the results of research and study at the group are open to the public as a report of the government or NEDO, the following are advancing or have advanced as technological development projects.
Development of technology for production of chemicals such as hydrogen and methanol by reforming hot coke oven gas (COG)
Development of technology for CO2 capture from coal combustion using chemical-looping combustion
Contact Person
| | |
| --- | --- |
| Name | E-mail |
| Katsuo Hashizaki, Director | |
| Susumu Sakai, Director | |