Energy Perspectives
IAE carries out cross-sectional and comprehensive analysis on broad energy areas including new and
renewable energies, electric power system, global environment, fossil fuels and nuclear energy technologies, assessment of the environment, resources and economy aspects. IAE draws up and
presents the nation's energy perspectives, thereby fulfilling its role of linking academic studies, industrial activities and government policies.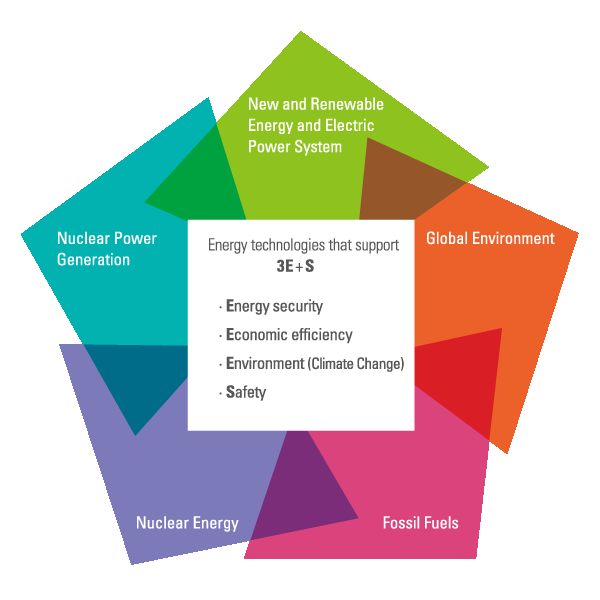 Analysis tools
IAE uses analysis tools such s GRAPE(global environment analysis system), SAMPSON(analysis code for severe accidents), etc. to carry out its assessments and analyses.
Energy Studies and Research in Broad Energy Areas
New and Renewable Energy and Electric Power System
IAE carries out studies and research on biomass conversion / usage, concentrated solar power generation, and CO2-free hydrogen supply chain as well as research on the development and use of energy saving devices and next-generation automobiles. Wide use of renewable energies necessitates also researches on smart grid, such as energy management systems, demand response systems and energy storage.
Global Environment
Climate change is a global and long-term agenda toward future. System analysis model to evaluate global environment systems, covering energy and land use, and climate dynamics, is used to have implications of climate policy and long-term role of technologies. In addition, Japanese energy demand-supply analysis model is used for Japanese energy system scenarios toward mid-century.
Fossil Fuels
For efficient use of fossil resources, IAE is developing technologies and assessing various systems including power generation and synthesis of fuels and chemicals. The research is focusing on unconventional natural gas and oil, such as shale gas and shale oil, combination with renewable energy, and low-rank coal, considering CO2 reduction from medium and long term point of view.
Nuclear Energy
IAE carries out studies and research including various issues on domestic / international nuclear environments; research on fast-breeder reactors / high-temperature gas-cooled reactors; development of innovative technologies and required human resources; research on nuclear fuel cycle; safety regulation requirements; and relationship / symbiosis between nuclear energy and our society.
The Nuclear Power Engineering Center (NUPEC)
was newly organized in 2008, taking over the R&D activities of the Nuclear Power Engineering Corporation (former NUPEC) on safety analysis, treatment / disposal of high-level radioactive waste, decommissioning and seismic safety. The management of high-level radioactive waste is one of the key issues from both technical and societal aspects. The Center is carrying out in-core behavior analysis at a severe accident, technological development of light water nuclear power plant safety and research on decommissioning. It also contributes to on- and off-site.